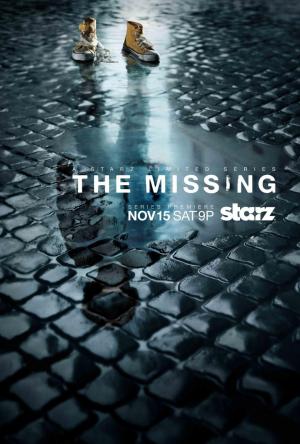 Título original: The Missing (TV Series)
Año: 2014
Duración: 1 hr.
País: Reino Unido Reino Unido
Director: Tom Shankland, Ben Chanan
Guión: Harry Williams, Jack Williams
Música: Dominik Scherrer
Fotografía: Ole Bratt Birkeland
Reparto: James Nesbitt, Frances O'Connor, Tchéky Karyo, Anastasia Hille, Émilie Dequenne, Jason Flemyng, Saïd Taghmaoui, Titus De Voogdt, Diana Kent, Arsher Ali, Joséphine de La Baume, Issaka Sawadogo, Jake Davies, Laura Fraser, Abigail Hardingham, Keeley Hawes, David Morrissey, Cela Yildiz, Derek Riddell
Productora: Coproducción USA-Reino Unido; New Pictures / Company Pictures / Two Brothers Pictures / Playground Entertainment / Fortis Film Fund Czar / Vlaamse Radio en Televisie (VRT) / All3Media / British Broadcasting Corporation (BBC) / Starz Entertainment
Género: Serie de TV. Drama. Intriga | Crimen. Secuestros / Desapariciones.
.
Sinopsis
The Missing. Rebecca "Becca" Winstone (Ashley Judd) es una viuda y ex agente de la CIA con un hijo de 18 años de edad, Michael (Nick Eversman). En 2001, cuando Becca y su esposo Paul Winstone (Sean Bean) fueron activos agentes de la CIA, Paul fue asesinado en un atentado con coche bomba presenciado por su hijo. En el episodio piloto, Michael le informa a su madre que ha sido aceptado en un programa de arquitectura de verano en Roma, Italia. Becca, que ahora vive una vida normal trabajando en una floristería, no se atreve a dejarlo ir, pero luego lo deja. Después de no tener noticias de él desde hace más de una semana y recibir una llamada de la escuela de arquitectura que le informaba que Michael se ha ido del dormitorio, Becca viaja a Roma para seguirle la pista, pero se encuentra en el centro de una conspiración internacional con la participación de la CIA y un agente de la Interpol que una vez fue su amante.
.
Temporadas: 1 | Capítulos: 8 | Formato: Mkv |  Tamaño: 2 GB   
Calidad: Brrip  720p |  Resolución: 1280 x 720 |  Audio : Español Latino – Ingles
  Servidores: Mega,  1fichier, Uptobox, Copiapop. |  Creditos: xmadex  Password: www.seireshd.com
  .
Para obtener una cuenta VIP contacta en facebook: Aqui.